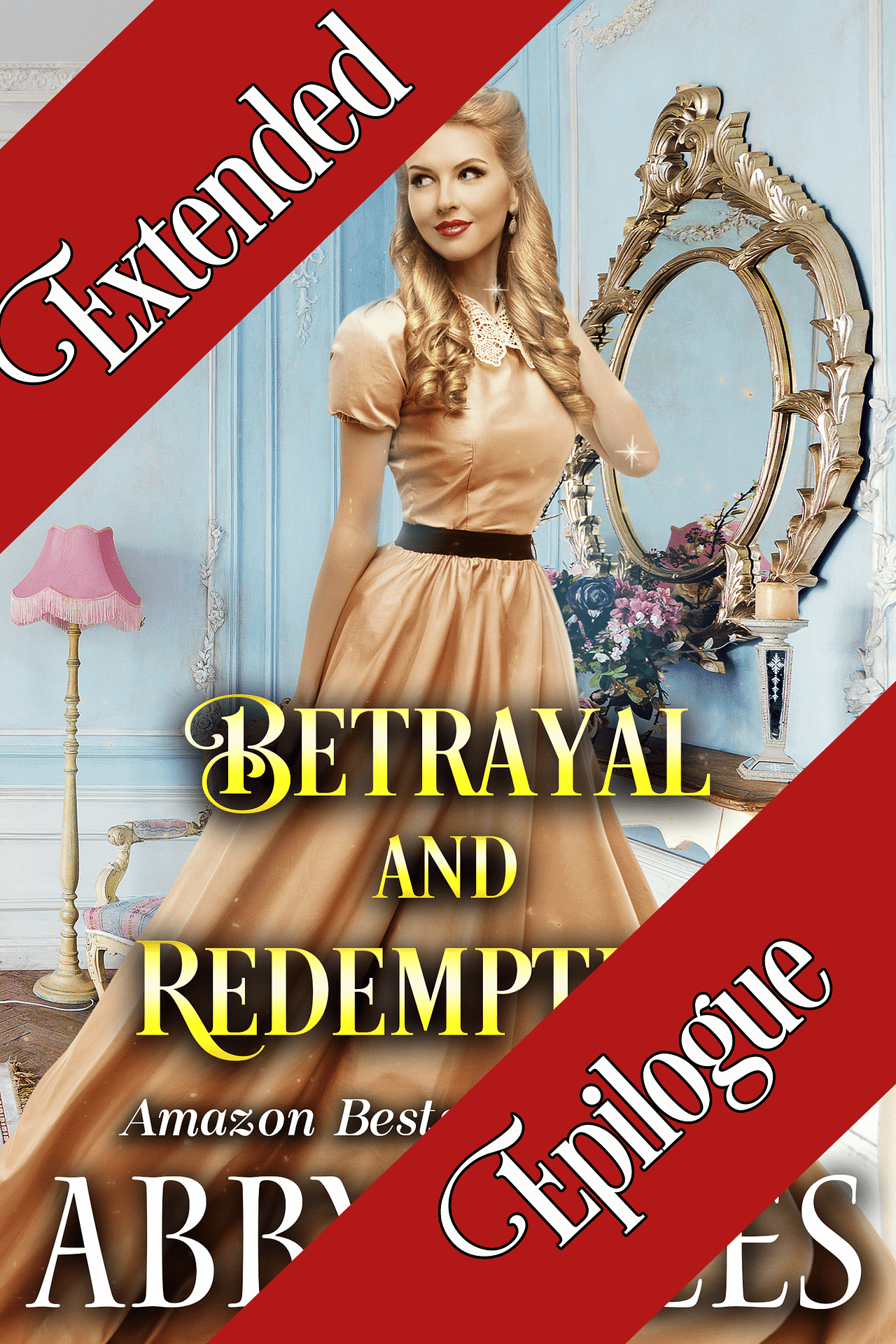 Extended Epilogue
Georgiana couldn't help but sigh with relief the moment the carriage came to a stop, something which did not go unnoticed by her husband, who smiled at her sympathetically. Margret, their nurse, herded their three-year-old son, Jonas, and carried their one-year-old daughter, Sylvia, out of the carriage first in a whirlwind of movement.
She loved her two children, she really did, but there was no denying young Jonas could be quite a bit rambunctious at times, especially when he was as excited as he was just then.
"Don't worry," Walter comforted as he helped her out of the carriage. "By the time we head home, little Jon will be so tired, he will sleep like a log."
"Hmm, you may be right, but we have both learned our son has a seemingly endless supply of energy," she replied as they headed towards Hendrickson Manor.
"Ah, there you are. We were just debating whether you would be able to get here on time," Ambrose said with a smile, as he saw them approaching.
He bent down to try to catch Jonas, but the toddler just ran past him and straight towards Felicia, who was currently holding her and Ambrose's son.
"We are so glad you could come," she said, as she placed little George on the ground to play with his friend, who looked to be on the verge of trying to climb up her to get to him in his eagerness.
"We wouldn't miss it," Georgiana replied as she watched the two playmates run off together. "It is hard to believe George is turning two years old already!"
"I know! But I am sure it is no harder than believing you and Walter have been married for four years," Felicia retorted. "I still cannot get my mind off how beautiful your anniversary party was last week."
"Why, thank you," Georgiana replied, as they linked arms and strolled towards the garden, their husbands following behind them.
When they reached the garden, she couldn't help but remark, "It is such a pity George is too young to be able to remember this birthday party. You have done a wonderful job with the decorations."
"Well, while the children play their little games with their nurses, we can have some tea and watch them exert themselves."
Georgiana laughed lightly at this remark, but gladly assented to the plan, taking a seat at the small outdoor table, where she saw tea and biscuits had already been set out for them. However, she didn't ask for a cup just yet, since they were still waiting for a couple more guests to arrive.
No sooner had she sat down and wondered where her aunt and uncle were, than she made out the sounds of another carriage approaching, though it was almost completely drowned out by the squeals and shouts of the children.
Not wanting to ask questions that were likely going to get asked again in just a few minutes, Georgiana simply enjoyed watching the children, as her son tried to play croquet without waiting for instructions.
Meanwhile, George kept switching between following his lead and listening to his nurse. Sylvia, on her part, didn't care for the game at all, instead running in circles and sometimes falling flat on her face, only to determinedly get back up again right away.
Soon enough, Lord and Lady Irvington could be seen approaching. Georgiana opened her mouth to greet them, but then froze in amused surprise when both walked right past the group of adults with barely a brief hello and without even looking at them, as they headed straight for the children.
She choked out a laugh at their actions and heard similar laughs from the others at the table. "Well, I suspected I had been replaced, but now it is confirmed," she told the others playfully, getting more laughter in reply.
"You know, at times like these, I wonder why we bothered getting a nurse for our children," Walter added as they watched the two older folks shoo away the nurse, so they could play with the children themselves.
"Now, Walter, you know they could never keep up with them other than for brief instances like this. Besides, none of their other grandchildren are close enough for them to see."
"Yes," Ambrose agreed. "But what I want to know is how my son ended up being adopted as a grandchild of theirs, as well."
"Well, I always did tell you were a brother to me. Since they adopted me as their daughter, that makes you their son, and George their grandson," she explained without hesitation, as she prepared her tea with just the right amount of sugar in it.
"And where do I fit in?" Felicia asked, just as amused as the rest of them, as all four of them watched those at play.
"Oh, you doubly belong to them. Once, because you married Ambrose, their adopted son. And the second time because you are Walter's cousin and like a sister to him in many ways … and what is Uncle doing now?" she exclaimed as they saw him lay down on the grass and start rolling over towards the children, who were squealing and trying to run away.
Those at the table all burst out laughing as Adelaide, too busy helping Sylvia to her feet again, did not notice her husband was rolling in her direction. He, of course, could not really tell where he was going, aiming only by the excited cries the boys were making.
The result was that he rolled right into her, nearly knocking her off her feet. Their laughter continued, as they heard her scolding him for not watching where he was going, causing him to abruptly stop his rolling as a form of entertainment.
Eventually, the old couple grew winded and had to come and sit down, at which point they tried to wrangle the three wriggling young ones onto their laps.
The sun started going down far too soon, as the three couples chatted and caught up with each other's news, the Irvingtons being the first to declare they must leave.
Finally, Ambrose cut into the conversation with a sigh, "It is getting late. Perhaps we could continue talking inside?"
"Oh, yes," Felicia replied, only just noticing how much time had passed. "That will give me time to alert the cook to prepare extra for dinner. You will stay for dinner, won't you?"
Georgiana glanced at Walter, who was looking back at her. Seemingly in agreement, he replied, "We would love to, if you are certain it won't be much trouble."
"Then it is all settled," Ambrose said with a pleased smile as they all rose to head indoors.
As they went, Georgiana couldn't help but cast one last look at the beautiful peonies that were in bloom. A look that was apparently noticed by Felicia, who smiled and told her, "Please, why don't you and Walter go for a stroll in the garden while we mind the children?"
"Would you like to?" Walter asked her as they paused.
Glancing at their hosts once to make sure it was agreeable to them, Georgiana eagerly nodded her head and replied, "Thank you, I would love to get a closer look at the flowers."
"Don't spend too long, or we might think you intend to leave us with two extra children," Ambrose teased as he and his wife went inside. When Felicia jabbed him with her elbow and gave him a look, he added, "I was merely jesting; take as long as you like. I can even have someone bring out a lantern if you would like."
Georgiana laughed a little as Felica rolled her eyes as they went indoors, clearly thinking he had gone too far in the other direction. Georgiana shifted her hand to hold Walter's, intertwining their fingers, as the two of them began to casually walk alongside the peonies in silence.
With a sigh, she eventually remarked, "I must admit, I don't know that there is anything more beautiful than a peony in full bloom. I used to think Aunt's roses were the prettiest thing, but these are even lovelier."
"I am afraid I disagree with you on both counts."
His reply caused her to frown and turn to look at him, finding he was gazing intently at her as he continued, "there is nothing more beautiful in the world than you."
"Flatterer," she retorted, her cheeks blushing, both at the compliment and at the way he was looking at her.
"Maybe a little, but aren't I supposed to flatter you?" he asked as he pulled them to a stop and released her hand to put both of his arms around her.
"Hmm … maybe," she replied, seeming to think about it. "I think you are right. You should definitely flatter me a little more, as I am certain I haven't received my daily dose of it."
"Oh, I could go on and on without ever running out of things to compliment you on," he told her, as he tucked a stray strand of hair behind one of her ears. "I am the most blessed man in the world to have you as my wife and the mother to our children. Every single day when I get the privilege of waking up beside you, I am reminded of the fact."
She didn't have any words even to begin to reply to that, especially not when his eyes were so sincere and full of love for her. So, she did the only thing she had learned she could do at such times.
Tightening her arms around his neck, she tilted her head up as she leaned in and closed her eyes. She felt him draw her closer as his lips met hers in a kiss that quickly became passionate, causing them to lose all track of time as the sun went down behind them.